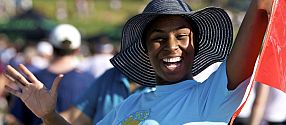 Want to lend a hand?


4th in the Park continues to thrive due to the dedication of our volunteers! There are many volunteer opportunities available, allowing you to choose the level of commitment that is right for you. In addition to helping enhance the experience for thousands of attendees, volunteers also receive a free t-shirt!
Find a Volunteer Role & Sign Up Today!

4th in the Park uses Volunteer Spot to coordinate all our volunteers. Please click on the button below to view all the volunteer roles we need filled & sign up today!