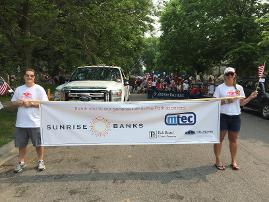 Business Sponsors Ensure Our Event's Success

4th in the Park is the only independence day parade left in St. Paul and is one of Minnesota's longest running parades! The event attracts between 2,000-3,000 spectators. If you want to reach families and show your patriotism a 4th in the Park sponsorship is right for you.
Not only will sponsors gain great exposure they can also take pride in knowing they are helping to ensure the success of this wonderful tradition. Your support makes a difference.

Event expenses are expected to exceed $20,000. Here are just a few of the annual expenses:
- Complimentary Flags for Spectators
- Awards & Prizes
- Bands & Entertainment
- Kids Zone Activities
- Bagpipes
- T-shirts
- Parade Permit
- Insurance
- Bathrooms
- Security & Barricades
- Volunteer perks (T-shirts)
- Mailings & Office Supplies
- Advertising
- Happy Hour Entertainment